THIS SERVICE MUST BE BOOKED WITHOUT DELAY AND IS ONLY AVAILABLE WITH CREMATION SERVICE
Framed Memorial Paws are created from an exact mould of your pets front paws, these moulds are then coloured in silver or gold and professionally framed by Frame Effect Orange. This service is for pets over 15kgs and cannot be performed on cats. All framing will be portrait style unless the landscape style is requested.
Paw Casts defult setting will be set with the claws facing towards the bottom of the frame and and one pad up and one down unless you advise otherwise. (other positions are available see photo below)
This service can also include having your pets ashes placed behind the photo within the frame if you so choose at no extra cost, this will need to be discussed when booking the service.
Framed Paws with Photo $380 ( $420 from November 1st 2021)
( the digital image must be at least 1mb and a clear sharp image)
Unframed paws $190 ( $200 from November 1st 2021)
Prices DO NOT include cremation costs
Paw positioning must be advised when booking the service
All prices in include gst.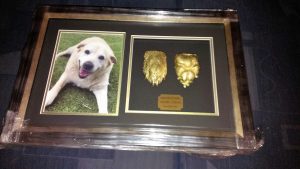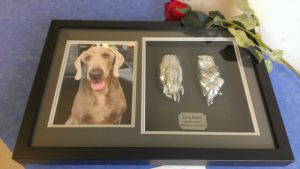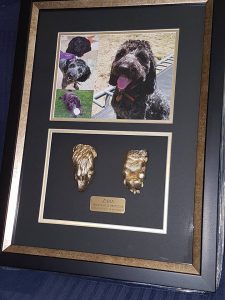 Our default framing style is portrait unless you advise your preference for landscape style.