About Pets at Peace
Pets at Peace Central West offers individual pet cremations and memorials to help preserve your treasured memories of any beloved pet. Our Orange based service caters for a wide range of pets, from dogs and cats through to smaller pets such as birds, mice and even snakes.
We offer sympathetic service throughout the Central West, 7 days a week.We can collect your pet from your home or vet,  (conditions and additional fees apply for home collections).
Our service aims to provide a number of options to suit any budget; you can choose from a variety of urns, timber boxes, plaques and headstones to commemorate your pet, including gold or silver paws and opportunities to include photos of your cherished 'friends'. We also offer special prices for smaller pets.
Our Pet Crematorium at Orange is the only purpose built individual pet crematorium in Central West NSW.  It was opened in May 2008, and is located among the peace and tranquillity of 10 acres of native bush land, surrounded by hundreds of gum trees and native shrubs which attract many native birds and animals providing a peaceful setting for your beloved pet's final journey.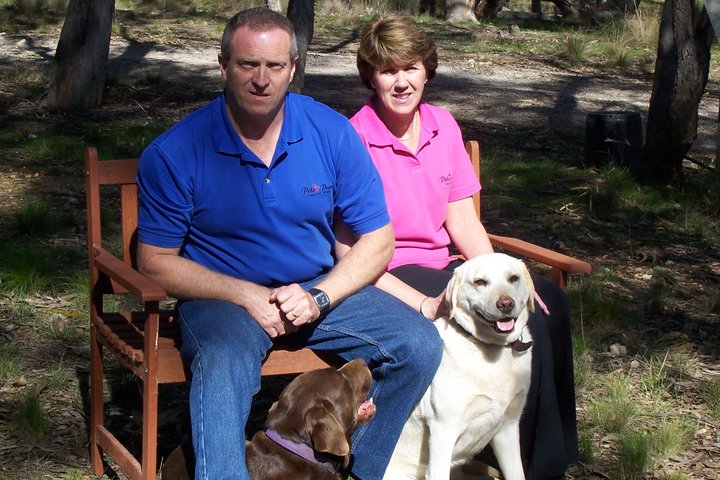 Our Mission
At Pets at Peace Central West we aim to make your time of loss as painless as we can. Our service is personal and caring.  When you contact us you speak directly to the people whom you have or will  entrust to give dignity to your pet's final journey. Unlike many city based pet cremation services you can talk to the owners Shane and Deb Whiley, or one of our dedicated staff who will be caring for your pet.
Our History
On a hot February day in 2004 my best mate Lucy (a tan kelpie) was killed accidentally when a trailer I was unloading collapsed and crushed her. I found the death of my dog was like losing a member of my family.  I was totally unprepared for her death and it brought me to a blubbering mess. I nursed my beautiful dog apologising to her for her sudden death that I had caused. It took me some time to understand why this tragedy had occurred; I believe it was fate and Lucy's death led both my wife Deb and I to where we are today.
When Lucy was killed I had no knowledge of Pet Cremation, There were few options for country people so I buried Lucy in a spot we now call 'Lucy's garden'.  We have memorial sandstone in her memory placed above where she is buried.
The service we now provide for animal lovers began in Country NSW on the 15th of December 2004.  I left a secure government job with the NSW Police Force and started the first pet cremation service for country people covering most of the Central West of NSW (about 80,000 Square km's).
We have agents based in or servicing areas including Mudgee, Wellington, Dubbo, Parkes, Forbes, Orange, Bathurst, Blayney & Cowra and most towns around these areas, we also collect from Vets in Young and Cootamundra. We transfer pets from all the vets in these town and that is our prefered collection location. All vets have Mortuary facilities which means the pet can be kept cool until we are able to make the transfer. Should your pet die at home contact you family vet and they will generally let you bring your pet to their clinic and place it in their mortuary.
We opened our first pet crematorium in May 2008,  located at our home among the peace and tranquillity of 10 acres of native bush land. We still have our private rose garden at the original facility. We relocated to our current location in Leewood Drive Orange in May 2018 to be able to provide a better service for the Central West. We have most of our products on display in our reception area which also gives people the option to collect their pets ashes from us and in some cases bring the pet to us for cremation.    ( attendance is by appointment only by calling 63611001)
Our Personnel
Shane Whiley
Shane is an ex Officer of the NSW Police Force with an inherit love of animals and is the driving force behind pets at peace.
Debbie Whiley
Deb has a background in medical administration, has a love of animals and has been a part of pets at peace since its beginning.