Locally made urns by a Jude Keogh Ceramics in Orange. These are an addition to our standard option and the numbers are Limited as the pottery is limited in the amount she can supply each month. You are supporting local business. Our Locally made black urn is available...
read more
Rosewood Photo box can be hung on the wall if you want or sit in a special place in your home. Includes a name plaque with up to 10 words, a photo needs to be emailed so it can be added. They come in 3 sizes priced from $55.00 to $75.00
read more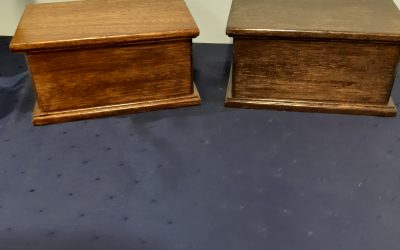 Timber Boxes are an upgrade and available in different styles, a Standard box , or a Photo Box with a Photo frame attached to the top to hold a picture of your beloved pet, the photo can be inserted DIY.
read more
Our Teak Boxes are another upgrade option. These boxes are no longer available with a photo frame and hinged style are in limited supply ( non hinged also now available). The hinged box can be sealed or left so it can be opened.
read more
Our Memorial Sandstone with UV treated plaque creates a lasting memory of your pet.
read more
Cremation Certificates are available to be ordered to accompany your pets ashes. These Certificates include your pets name and the time of their cremation, along with a signature to signify your pets individual cremation.
read more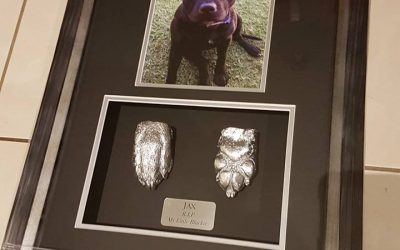 Framed Memorial Paws are created from an exact mould of your pets front paws, these moulds are then coloured in silver or gold and professionaly framed.
read more
As a small token to remember a lost pet, we offer a pewter lapel pin in the shape of a paw.
read more
We have a large range of Cremation Jewellery in both sterling silver and stainless steel.
read more